Important Note: The Survey questions were drafted by the UASU Research and Advocacy Team, the survey was publicized by the ISA and all the graphs used in this report, were again generated by the UASU Research and Advocacy Team after analyzing survey results.
Survey Responses Analysis:
Net Participants: 335 respondents for 4,800 undergraduate international students
Last Year Fee-related Survey Comparison:
2020 OASIS FAMF Survey: 234 for 6,050 arts undergrad students

2020 ESS FAMF Survey : 185 for 4,627 eng undergrad students
Few of the recent SU Surveys:
Undergraduate students in 2020/2021 - 30,341 Full Time, 2,769 part time - 33,110 net.
Survey Results
"The ISA plans to reach out to international students on all
campuses, fund communication tools to strengthen
advocacy efforts, support information sessions, and/or
produce welcome booklets for international students.
Would you pay roughly $0.60 per semester to support this
plan?"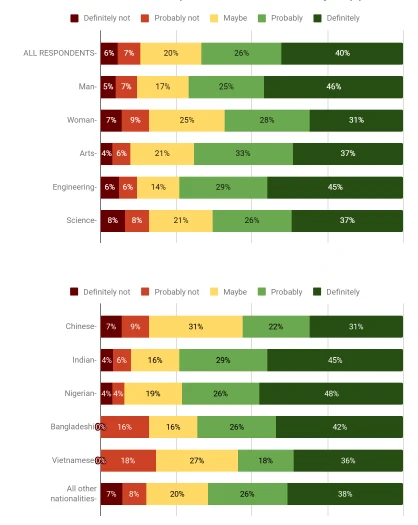 "The ISA plans to create new financial aid programs for
international students. (E.g. Community Engagement
Recognition Awards, contest prizes, Last Resort Funding.)
Would you pay roughly $1.20 per semester to support this
plan?"
"The ISA plans to create new programs, events, and services
for international students. (E.g. discount card for
businesses around Edmonton, affordable food stall on
north campus, events around the year) Would you pay
roughly $1.80 per semester to support this plan?"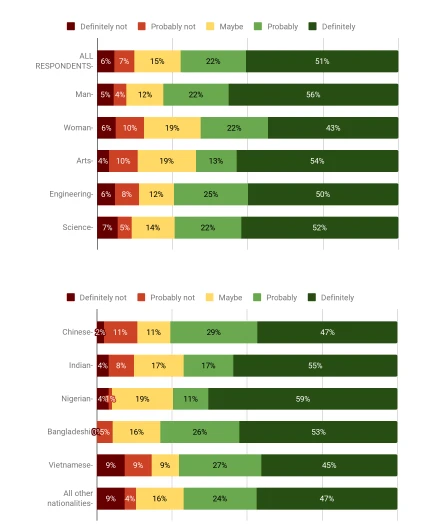 "The ISA plans to fund regional and BIPOC student groups,
promote diverse and cultural events, student-initiated
events, and host welcome activities. Would you pay roughly
$0.90 per semester to support this plan?"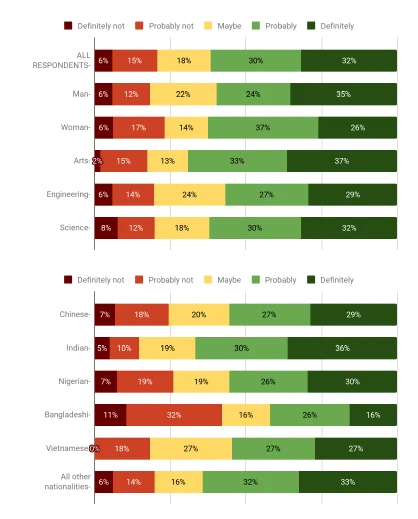 "The ISA plans to create health/wellness and professional
development services and programs. Would you pay
roughly $0.60 per semester to support this plan?"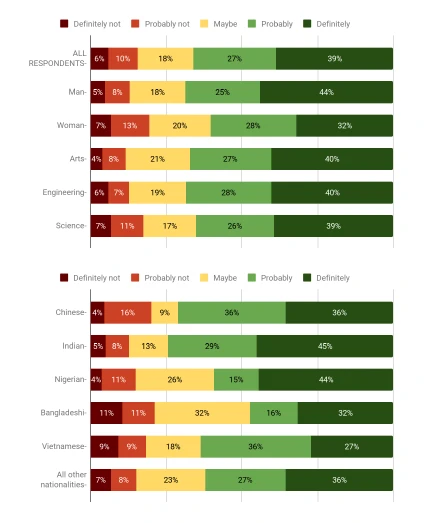 "The ISA plans to cover its operational costs and provide
international students with a hub on campus. Would you
pay roughly $0.90 per semester to support this plan?"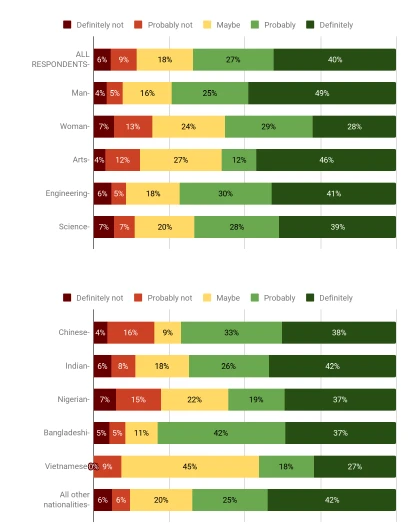 "Now that you've seen what the ISA hopes to do with the
fee revenue, how much do you trust that the ISA can deliver
on these plans?"
"Now that you've seen what the ISA hopes to do with the
fee revenue, what's your opinion of the proposed
$6/semester fee?"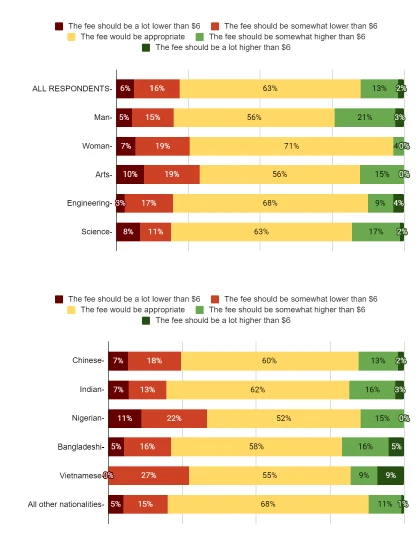 "If the international student body approves a fee like this,
how often should they vote to renew it?"

PDF File of the Survey Results: PDF